Stay compliant when you're on the move with the SEC3URE mobile app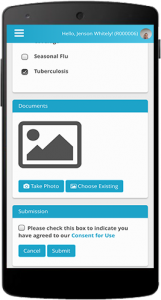 Now, from the convenience of your smartphone or tablet, check in and out of mobile app enabled hospitals, manage your account, check your compliance at each of your hospitals, meet outstanding requirements, add new hospitals, and much more!
Once enabled by the hospital, the mobile app allows compliant commercial visitors (CV) to check-in for their visit and print their per-visit badge from the app. In addition to freeing up hospital staff from the work of check-in duties, it will speed up the process for CV's as well as allowing them to manage all aspects of their subscription on the go, quickly and easily.
The mobile app is just one part of IntelliCentrics' continual commitment to improve the ease and scope of policy and regulatory compliance.
Get the IntelliCentrics SEC3URE mobile app and ask your hospitals if they are SEC3URE mobile app enabled!