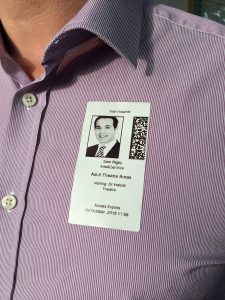 The NHS' Scan4Safety programme uses barcodes to identify, match and track patients, products and locations – improving patient safety and helping hospitals work more efficiently.
Now, as part of the continual development of the IntelliCentrics SEC³URE service, we are able to add trusts' barcodes to our commercial visitor badges – which have been tested and approved by GS1.
For each case, when the patient, location, products and staff are scanned – commercial visitors attending can also be scanned. This means hospitals can have a comprehensive record of each case in their GS1 data repository.
Trusts also benefit from the additional information available in their SEC³URE service. This includes an audit trail of commercial visitors' agreement to the trust's safety and procurement policies, and compliance with requirements for training, insurance, immunisations and background checks.
All at no charge to trusts.
So, wherever you are on your Scan4Safety journey – we're ready to help.
For more information, please contact us.